Marisa Leal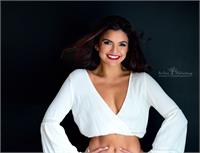 Marisa is a 3rd generation yogi! Her exposure to vinyasa started in her early childhood,although it wasn't until her late teenage years that she fell in love with the practice. Marisa began her teacher training in 2013 and was certified through Leslie Glickman (RYS 200 hour) at Yoga Journey in early 2015. Since then Marisa has grown tremendously in her practice both as a teacher and student and is inspired to share the gift of yoga with others. She believes the mind, body, soul connection is a sacred one, and one that should be nurtured and loved. With that mentality, she teaches her classes from her heart creating an uplifting, safe environment for students to begin to explore and expand within their own body and consciousness.
Marisa Leal instructs the following:
This intelligently sequenced class is set to 105 degrees with 40% humidity and inspired by the original 84 postures of the Ghosh Yoga method. Students can expect consistency in class structure as well as instruction for both deepening and modifying, as well as clear precise instruction for entering and exiting poses. Benefits include:
stronger, toned muscles, general sense of well-being (physical and psychological), improved flexibility, increased mental clarity, detoxification (through sweat), alleviating many ailments including stress, arthritis, muscular pain, insomnia, and asthma, potential
for weight loss. This class is accessible to all levels and body types.




Vinyasa or often referred to as flow yoga is unique in the smooth way that the poses run together and become like a dance. Each movement is linked to either an inhale or an exhale. This class is great for all levels.




Our kid's class is the perfect outlet for tuning in and unwinding after a busy day of school. Kids will learn challenging postures and a more flowing type of yoga that will help them calm their minds and strengthen their bodies. Partner poses and group games encourage kids to make new friends and sense a feeling of community. We work on building self-confidence and self-awareness. A great class for gaining tools to help deal with stressful situations and everyday life.




HOT POWER FLOW IS A POWERFUL, ENERGETIC FORM OF YOGA WHERE STUDENTS FLUIDLY MOVE FROM ONE POSE TO THE NEXT WHILE CONNECTING THEIR BREATHING TO THEIR MOVEMENTS. THIS TYPE OF YOGA IS TAUGHT IN A HEATED STUDIO WHICH MAKES IT A VIGOROUS AND REVITALIZING FORM OF PHYSICAL FITNESS. IT INCORPORATES STRENGTH, FLEXIBILITY, BALANCE, CARDIO AS WELL AS PHYSICAL AND MENTAL STAMINA IN ONE SESSION. THIS PRACTICE IS A PERFECT BLEND OF SWEAT AND SERENITY.