Amy Frank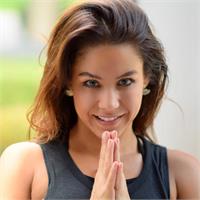 Amy has a lot of energy. She is a mama and certified yoga, pilates, and barre instructor. Fitness has been her passion for as long as she can remember. She has taken this love to her community, inspiring her students to go beyond what they believe they can achieve, leading to an increase in confidence and self-love.
Exclusively at Evolution, Amy's classes are a thoughtful blend of breath-centered flow, skillful alignment cues, inspired sequencing, and purposeful moments of pause and reflection. Specializing in core stability, balance and flexibility, she brings her passion for a holistic fitness regime to every one of her classes. Expect to sweat, push yourself, and have fun.
Amy Frank instructs the following:
HOT POWER FLOW IS A POWERFUL, ENERGETIC FORM OF YOGA WHERE STUDENTS FLUIDLY MOVE FROM ONE POSE TO THE NEXT WHILE CONNECTING THEIR BREATHING TO THEIR MOVEMENTS. THIS TYPE OF YOGA IS TAUGHT IN A HEATED STUDIO WHICH MAKES IT A VIGOROUS AND REVITALIZING FORM OF PHYSICAL FITNESS. IT INCORPORATES STRENGTH, FLEXIBILITY, BALANCE, CARDIO AS WELL AS PHYSICAL AND MENTAL STAMINA IN ONE SESSION. THIS PRACTICE IS A PERFECT BLEND OF SWEAT AND SERENITY.




Our own style of Barre class, incorporating the barre, ball hand weights, and more. This is a fitness class NOT a ballet class. However, ballet principles are utilized throughout class along with Pilates principles. Come ready to feel the burn. Please bring a mat.




Balls, bands, light weights and more are used in this high-intensity class to assist in creating proper form and to intensify certain exercises. This class uses the technique of traditional mat pilates and the intensity of cardio intervals to create a whole body workout. 95 degrees with 40% humidity.




Inside you is an innate wisdom that intuitively understands about the very natural process of birth. This program helps you reconnect with this wisdom, guiding you through a class specifically designed for the journey of pregnancy, interweaving childbirth education as well as addressing therapeutic applications – common aches and pains.The program, conducted in a calm, peaceful environment will help strengthen the uterus and pelvic muscles, improve circulation, aid in digestion, exercise the spine and hips and increase overall comfort. Yoga can also alleviate many of the discomforts of pregnancy such as nausea, constipation, varicose veins, swelling, back pain and sciatica. A safe, open community allows you to freely discuss any issues, from discomforts and concerns, to the wonderful new changes your body and baby are experiencing.
Linking yoga postures with the breath will lead you to new discoveries, bringing awareness to the mind, body and spirit, and also the spirit of your baby.