Adriana Lee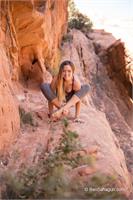 Adriana was first introduced to yoga at the age of nine, then again at 13, and again and again until finally the practice stuck with her like glue. Yoga taught her to see past the delusions and illusions of this life. It showed her the sweetness hidden beneath the gears of the daily grind. At 23, Adriana packed my bags and went to Spain for my 200 Hour RYT in Vinyasa Yoga at Frog Lotus Yoga's center Suryalila. She returned to her hometown Las Vegas, NV and studied an additional 50 hours of Forrest yoga under Heba Saab of HIBS Yoga. She continued her training with Heba by assisting and acting as a mentor to her 200 Hour trainees. Truly, she keeps learning every time she steps on to the mat. Her intention when she teaches is to share what She's learned about the magic of movement, and the bliss of being.
Adriana Lee instructs the following:
You receive the greatest benefits from your yoga practice not through forcing yourself into a pose, but by releasing and surrendering to it. In this restorative yoga class you will rest with the support and comfort of props, dissolve physical tension, enhance your circulatory and nervous systems as well as reduce stress.

MAX CAPACITY: 24 students

ONLINE SIGN UPS HAVE FIRST PRIORITY.

5 MIN PRIOR TO CLASS START TIME WE ALLOW WALK INS FOR NO CALL NO SHOWS




95 degrees

40% humidity

Balls, Bands and Blocks are used in this class to assist in creating proper form and to intensify certain exercises. This class uses the technique of traditional mat pilates and the intensity of cardio intervals to create a whole body work out.




This intelligently sequenced class is set to 105 degrees with 40% humidity and inspired by the original 84 postures of the Ghosh Yoga method. Students can expect consistency in class structure as well as instruction for both deepening and modifying, as well as clear precise instruction for entering and exiting poses. Benefits include:
stronger, toned muscles, general sense of well-being (physical and psychological), improved flexibility, increased mental clarity, detoxification (through sweat), alleviating many ailments including stress, arthritis, muscular pain, insomnia, and asthma, potential
for weight loss. This class is accessible to all levels and body types.




Vinyasa or often referred to as flow yoga is unique in the smooth way that the poses run together and become like a dance. Each movement is linked to either an inhale or an exhale. This class is great for all levels.