Lisa Ponczek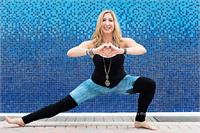 "You have Cancer" are the three words nobody ever wants to hear but those are the words that brought Lisa to a consistent yoga practice and eventually to her love of holding space for others as an RYT 500 yoga instructor. Lisa is a testament to the power of using the mind, body and breath to find inner strength and a sense of calm even through life's toughest challenges. After being diagnosed with a chronic leukemia in 2012, she began consistently connecting with her mat and soon after began her journey towards becoming a 500 hour RYT. Lisa's passion for yoga and commitment to her students only kept growing as she dealt with ongoing testing, procedures and treatments. Yoga is not only her refuge, her place of serenity and stillness, she finds it to be a practice of empowerment and hope within a safe and nurturing environment. Lisa's classes create just that, a sense of peace and tranquility within an empowering and non judgmental practice while providing opportunities for learning and growth. Lisa has also been certified in Yoga 4 Cancer with Tari Prinster. She teaches a variety of classes including vinyasa, yin, hatha, Y4C, meditation and Stand Up Paddle Board yoga. She also created and leads Yoga Beats workshops; a fun and uplifting class combining her love of yoga, dance and popular music while teaching choreographed sequences. Students become part of the rhythm of the music, essentially creating a meditation in movement all while having a blast! Lisa is also a Certified Holistic Health Coach through the Institute for Integrative Nutrition. She looks forward to seeing you on the mat!
Lisa Ponczek instructs the following:
Vinyasa or often referred to as flow yoga is unique in the smooth way that the poses run together and become like a dance. Each movement is linked to either an inhale or an exhale. This class is great for all levels.




In Yin Yoga, poses are held for several minutes at a time in order to the stretch the connective tissue around the joints. In the deep stretching class you can expect to lay back, relax, and de-stress.