Vikky Santana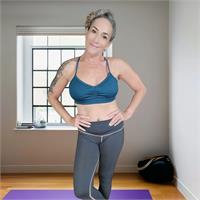 Vikky Santana, 500-hour RYT, was born and raised in Miami, Fl. and lives with her daughter in Coral Springs, FL. She was introduced to yoga 20 years ago but it wasn't until the birth of her daughter 16 years ago that she really saw her life's purpose. "Yoga literally saved my life. I am compelled to teach all aspects of the practice in the hopes of helping others help themselves."
In 2010 she completed her first 200hr RYT certification and soon after her 100hr Philosophy certification at Philip Christodoulou's Anuttara Yoga Shala. She continued her education with BEa Raydo at Yoga Connection earning her 300hr RYT.
Her training is classic, orthodox Yoga. Her goal is to teach others the ancient practice and tools in a contemporary fashion. Be prepared to be challenged, to laugh and to be moved.
Vikky leads our Yoga Certification program at Evolution Yoga, is the Team Lead for our Hot Yoga and is the founder of KriYin® Yoga. Follow her wisdom and antics @VikkySantanaYoga, www.VikkySantana.com, www.facebook.com/vikky.santana
Vikky Santana instructs the following:
This intelligently sequenced class is set to 105 degrees with 40% humidity and inspired by the original 84 postures of the Ghosh Yoga method. Students can expect consistency in class structure as well as instruction for both deepening and modifying, as well as clear precise instruction for entering and exiting poses. Benefits include:
stronger, toned muscles, general sense of well-being (physical and psychological), improved flexibility, increased mental clarity, detoxification (through sweat), alleviating many ailments including stress, arthritis, muscular pain, insomnia, and asthma, potential for weight loss. This class is accessible to all levels and body types.




HOT POWER FLOW IS A POWERFUL, ENERGETIC FORM OF YOGA WHERE STUDENTS FLUIDLY MOVE FROM ONE POSE TO THE NEXT WHILE CONNECTING THEIR BREATHING TO THEIR MOVEMENTS. THIS TYPE OF YOGA IS TAUGHT IN A HEATED STUDIO WHICH MAKES IT A VIGOROUS AND REVITALIZING FORM OF PHYSICAL FITNESS. IT INCORPORATES STRENGTH, FLEXIBILITY, BALANCE, CARDIO AS WELL AS PHYSICAL AND MENTAL STAMINA IN ONE SESSION. THIS PRACTICE IS A PERFECT BLEND OF SWEAT AND SERENITY.




KriYin is a systematic yogic practice done on the floor with the primary purpose of deepening your awareness of body, mind and spirit. It's meditation, breath work and yin to calm the mind and feed the soul.

The class is conducted in a warm room (not hot). Warmer than non-heated but not as hot as a hot yoga class. A great way to get acclimated to a heated practice environment.




If your Yoga practice focuses primarily on posture, this is an excellent transition to begin exploring meditation through the body. A journey of myoskeletal alignment, this form of Yoga understands that through this alignment of the body, we shall also find the alignment of the mind.

Raja is a Yin inspired practice conducted in a heated room. An ALL levels class, it is also physically and mentally challenging. Consider it a transition between Flow and KriYin Yoga. A heated Flow class focuses on engaging muscle and connecting movement with breath. KriYin focuses on breath to disengage muscle and transition the practitioner into deep states of meditation. Raja Yoga is in-between these two styles of classes.

Raja is posture based with an exploration of meditation. The postures are challenging even for experienced yogis and yet accessible to ALL levels. Transition from one posture to another is intuitive. The sequencing is very efficient and unnecessary movements are limited so that the mind can focus on breath and alignment. Different than a traditional Yin class, Raja postures initially require more muscle activation to initially enter into the poses. Then the practitioner works with breath to find their level of relaxation and calmness of mind.

You learn:

- to relax in classic and challenging postures

- the Yoga Sutras

- mantras

- how the mind, body and nervous systems work

- enjoy a delicious Savasana at the end