AJ Londono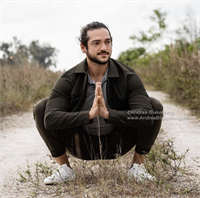 AJ is a fitness instructor and personal trainer from Long Island, NY with almost a decade of experience. Before realizing his calling and passion for fitness, he received his Bachelor's degree in both Psychology and Biology, and had medical school in mind.
He knew he was intrigued by the human body and health, but it was only after his studies and time in the gym that he realized his passion was helping people optimize their lives and health.
In 2014, AJ began studying mindfulness, and was introduced to yoga! Now, AJ uses fundamentals of yoga, meditation, and mobility protocols to help change the lives of thousands of people in the yoga & wellness world.
AJ Londono instructs the following:
Suspension training with a bootcamp/cardio flare! in this intense 60 minute bootcamp class the instructor uses multiple modalities ranging from Kettlebells, Battleropes, Steel Maces, Bands, Dumbbells, and of course the TRX to create a fun and dynamic 1 hour thrilling experience! All levels welcome. a yoga mat is optional but encouraged, and always have a water bottle for hydration!




ONLY HAVE A SHORT TIME FOR A WORKOUT? THIS HIGH-INTENSITY-INTERVAL-TRAINING (HIIT) CLASS COMBINES ELEMENTS OF VELOCITY TRAINING WITH CARDIOVASCULAR EXERCISE TO CREATE POWER. YOUR MUSCLES GET A WORKOUT AT THE SAME TIME AS YOUR HEART AND LUNGS. QUICK CALORIE EXPENDITURE PLUS USING THE BODY'S NATURAL RANGE OF MOTION MAKES THIS A VERY EFFICIENT WORKOUT. BUILD TOWARD CONTINUOUS MOVEMENT FOR 20 MINUTES WITHOUT THE REST.




A high intensity, nonstop, heart racing 60 minute cardio Class! this class consists of Kettlebells, Bands, Dumbbells, and body-weight exercises in a room heated to right under 100 degrees. all students should bring a Yoga mat, towel, and water bottle.




THE KETTLE BELL IS THE MOST EFFECTIVE TOOL FOR WEIGHT LOSS, STRENGTH GAINS AND BUILDING CARDIO ENDURANCE. LEARN THE TECHNIQUES OF KETTLEBELL SPORT MOVEMENTS—SWING, CLEAN, PRESS, JERK AND SNATCH. THE CLASS IS DIVIDED SO BEGINNERS CAN LEARN THE TECHNIQUES WHILE OTHERS ARE GIVEN 5-10 MINUTE DRILLS TO BUILD ENDURANCE AND STRENGTH.