Amy Appel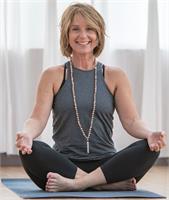 Amy is a former elementary school teacher who graduated from NYU with a BS in education. She has been practicing yoga for over 17 years and teaching for 7. She decided to take her passion and train to share her love of yoga with others. She is known for her compassionate teaching and attention to detail. She is eager to help her students learn and work to their fullest potential.
Amy is an E-RYT 500 yoga teacher who trained through Yoga Journey in Boca Raton, Florida. She works with a faculty to train students to become yoga teachers. She teaches at several clubs and studios around town and also has a fully equipped home studio for private clients.
Amy has a way of keeping it real and fun while maintaining the integrity of the yoga practice. She blends the physical and the spiritual, sharing that we can take these lessons with us off the mat. She often works privately with her students for one on one instruction. She teaches Vinyasa, Intro to Yoga and Gentle Yoga.
Amy Appel instructs the following:
This class is for beginners or students who want to improve their yoga practice. Concentration on proper execution of asanas, alignment, transitions and breath work will start to transform you from the inside out.




Vinyasa or often referred to as flow yoga is unique in the smooth way that the poses run together and become like a dance. Each movement is linked to either an inhale or an exhale. This class is great for all levels.




This is a calming, stress relieving yoga class designed to stretch and strengthen the body gradually. The emphasis is on building awareness of the breath in connection with the body and incorporating meditation. The asanas (poses) are practiced at a slower pace with attention to detail and alignment. This class is recommended for all levels looking for a soothing, relaxing experience. It is also well suited for those newer to yoga or those working with special concerns or injuries. If you want a gentle way to learn more about yoga, this class is for you.