Amber Weaver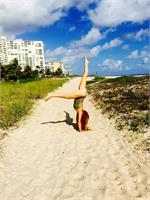 I am certified in Pilates and Yoga and have a strong background in the health and fitness industry. In 2014 I received my B.S. in Alternative Medicine which included many studies in holistic health.
My ultimate goal is to help others find peace and happiness within themselves. I believe we all posses the desire to find balance in our mind and body. I fell in love with yoga during the pregnancy of my third child and it instantly became a very important part of my life. Recently I completed my 200hr YTT with Paige Held and Kelly Green and my hope is to share my knowledge and experience with others. Everyone deserves to live a life they love!
Amber Weaver instructs the following:
95 degrees

40% humidity

Balls, Bands and Blocks are used in this class to assist in creating proper form and to intensify certain exercises. This class uses the technique of traditional mat pilates and the intensity of cardio intervals to create a whole body work out.




HOT POWER FLOW IS A POWERFUL, ENERGETIC FORM OF YOGA WHERE STUDENTS FLUIDLY MOVE FROM ONE POSE TO THE NEXT WHILE CONNECTING THEIR BREATHING TO THEIR MOVEMENTS. THIS TYPE OF YOGA IS TAUGHT IN A HEATED STUDIO WHICH MAKES IT A VIGOROUS AND REVITALIZING FORM OF PHYSICAL FITNESS. IT INCORPORATES STRENGTH, FLEXIBILITY, BALANCE, CARDIO AS WELL AS PHYSICAL AND MENTAL STAMINA IN ONE SESSION. THIS PRACTICE IS A PERFECT BLEND OF SWEAT AND SERENITY.




This intelligently sequenced class is set to 105 degrees with 40% humidity and inspired by the original 84 postures of the Ghosh Yoga method. Students can expect consistency in class structure as well as instruction for both deepening and modifying, as well as clear precise instruction for entering and exiting poses. Benefits include:
stronger, toned muscles, general sense of well-being (physical and psychological), improved flexibility, increased mental clarity, detoxification (through sweat), alleviating many ailments including stress, arthritis, muscular pain, insomnia, and asthma, potential
for weight loss. This class is accessible to all levels and body types.