Amber Weaver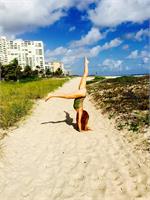 I am certified in Pilates and Yoga and have a strong background in the health and fitness industry. In 2014 I received my B.S. in Alternative Medicine which included many studies in holistic health.
My ultimate goal is to help others find peace and happiness within themselves. I believe we all posses the desire to find balance in our mind and body. I fell in love with yoga during the pregnancy of my third child and it instantly became a very important part of my life. Recently I completed my 200hr YTT with Paige Held and Kelly Green and my hope is to share my knowledge and experience with others. Everyone deserves to live a life they love!
Amber Weaver is currently not instructing any classes.