Amelia Maynard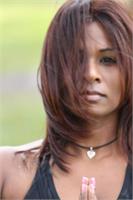 Amelia has been a disciplined practitioner of yoga for over 19 years and became a certified Yoga Alliance teacher in 2011. Her passion extends far beyond the traditional; she is a dedicated Akashic Records reader and counselor, Reiki Master/Teacher, Integrated Energy therapy practitioner, certified life coach and an intuitive. These modalities are unified into her yoga classes to offer her students a truly one of a kind yogic experience. Amelia guides her students to find their spiritual, mental, and physical balance through a strong, intuitive flow. Her unique light-hearted approach and time honored teaching style lend itself easily to new and seasoned practitioners alike. You will learn, sweat, and smile your way through inspiring and rejuvenating classes, which are filled with good vibrations of strength and peace.
Amelia Maynard instructs the following:
Vinyasa or often referred to as flow yoga is unique in the smooth way that the poses run together and become like a dance. Each movement is linked to either an inhale or an exhale. This class is for the seasoned yoga student.