April Clendenin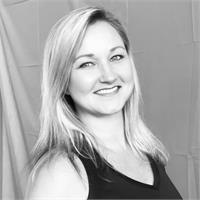 April's love of dance started at a very young age. At the age of 15, she moved away from her family to pursue her dance training year-round at the Harid Conservatory in Boca Raton, FL and spent her summers with Pacific Northwest Ballet in Seattle, WA. After an unfortunate injury left her unable to pursue dance professionally, April returned home to focus on her education. In 2014, she relocated to South Florida with her husband and two boys. April quickly found Barre as a great fitness program that brought her back to her dancing days. It was then that she realized fitness was her calling. April is currently certified in Barre, PiYo, as well as Hot Pilates. As Lead Barre instructor she has developed two training curriculums that are currently offered at Evolution Yoga.
April Clendenin instructs the following:
Balls, bands, light weights and more are used in this high-intensity class to assist in creating proper form and to intensify certain exercises. This class uses the technique of traditional mat pilates and the intensity of cardio intervals to create a whole body workout. 95 degrees with 40% humidity.




Our own style of Floor Barre that incorporates Ballet and stretching techniques to build long and lean muscles. This class will consist of 45 minutes of mat work followed by 15 minutes of core work. Walk out of class feeling taller, longer, and stronger having done a full body workout.




Our own style of Barre class, incorporating the barre, ball hand weights, and more. This is a fitness class NOT a ballet class. However, ballet principles are utilized throughout class along with Pilates principles. Come ready to feel the burn. Please bring a mat.




EVOLUTION PILATES FUSION (NON-HEATED) COMBINES MAT PILATES EXERCISES WITH HIGH-INTENSITY INTERVAL TRAINING, CARDIO AND YOGA. THIS HIGH-ENERGY CLASS BUILDS STRENGTH AND ENDURANCE, WHILE TONING AND TIGHTENING.