Joe Klein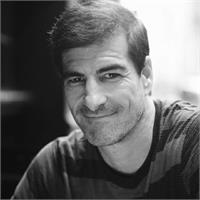 It is said that yoga finds you and not the other way around. So was the case with Joe while he was looking for a different kind of strength and flexibility work to add to his workouts more than 15 years ago. Finding new ways to incorporate yoga, both on the mat and off, have been part of his inspiring yoga journey. He completed (Charm City Yoga/YogaWorks) Kim Manfredi's Summer Intensive RYT 200 hour program in 2014. Joe offers a light-hearted atmosphere in which both the experienced yogi or the newcomer will feel welcome and challenged to their ability. Join Joe to find freedom in the athletic flows and mindful Vinyasa that will guide and strengthen your practice.
Joe Klein instructs the following:
HOT POWER FLOW IS A POWERFUL, ENERGETIC FORM OF YOGA WHERE STUDENTS FLUIDLY MOVE FROM ONE POSE TO THE NEXT WHILE CONNECTING THEIR BREATHING TO THEIR MOVEMENTS. THIS TYPE OF YOGA IS TAUGHT IN A HEATED STUDIO WHICH MAKES IT A VIGOROUS AND REVITALIZING FORM OF PHYSICAL FITNESS. IT INCORPORATES STRENGTH, FLEXIBILITY, BALANCE, CARDIO AS WELL AS PHYSICAL AND MENTAL STAMINA IN ONE SESSION. THIS PRACTICE IS A PERFECT BLEND OF SWEAT AND SERENITY.