Jennifer Gruher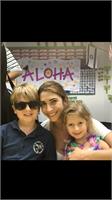 I was born and raised in Miami, Florida, and my husband and two children are my pride and joy. I graduated from the University of Florida and received my masters degree in elementary education. I knew at a young age that I wanted to be a teacher and share my love of learning with children. I took a break from teaching when my children were young and started to develop a passion and love for yoga. As I began to practice, I immediately connected with the spiritual, mental, and physical benefits and learned how transformational yoga is to my mind, body, and soul.
I wanted to share my love around my new found passion, so I decided to get certified to teach kids! Teaching children the practice of yoga has been a gift! I am able to combine my two passions- kids and yoga!
My certification is through Kidding Around Yoga which is an integral form of yoga combining meditation, breathing practices, mindfulness and awareness, poses, games and songs, all while having FUN!
"Peace begins with me"
Jennifer Gruher is currently not instructing any classes.