Marni Rachimi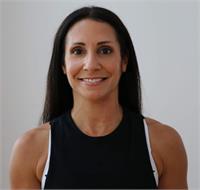 I am a mom of 2 young children and a lover of all things fitness and health!
I love working with children and adults of all ages. I am a certified Kids Yoga Instructor who enjoys teaching children all the wonderful benefits that yoga and fitness have to offer.
I am also an ACE certified personal trainer, an ACE Fitness Nutrition Specialist a Qualified TRX Instructor and Group Fitness Instructor. I am committed to helping anyone and everyone achieve their health and fitness goals!
Marni Rachimi instructs the following:
TRX Suspension Training utilizes gravity & your own body weight to challenge your muscles & test your endurance. This class uses functional movements & balance to challenge & strengthen the stabilizing muscles in the body, while remaining suitable & accessible for all levels. This unheated class may contain mobility, cardio, & strength drills to complement the TRX experience.




Suspension training with a bootcamp/cardio flare! in this intense 60 minute bootcamp class the instructor uses multiple modalities ranging from Kettlebells, Battleropes, Steel Maces, Bands, Dumbbells, and of course the TRX to create a fun and dynamic 1 hour thrilling experience! All levels welcome. a yoga mat is optional but encouraged, and always have a water bottle for hydration!