Marni Rachimi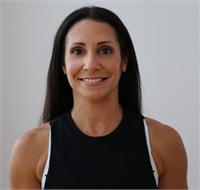 A lover of all things fitness, I made the decision to pursue my passion to become a fitness instructor and trainer and haven't looked back since!
I love working with children and have 2 of my own. I am a certified Kids Yoga Instructor who enjoys teaching children all the wonderful benefits that yoga and fitness have to offer.
While working at Evolution, I fell in love with TRX and have since become a TRX qualfied instructor.
I am so thrilled to be a part of the Evolution family!!!
Marni Rachimi instructs the following:
TRX Suspension Training utilizes gravity & your own body weight to challenge your muscles & test your endurance. This class uses functional movements & balance to challenge & strengthen the stabilizing muscles in the body, while remaining suitable & accessible for all levels. This unheated class may contain mobility, cardio, & strength drills to complement the TRX experience.




Our kid's class is the perfect outlet for tuning in and unwinding after a busy day of school. Kids will learn challenging postures and a more flowing type of yoga that will help them calm their minds and strengthen their bodies. Partner poses and group games encourage kids to make new friends and sense a feeling of community. We work on building self-confidence and self-awareness. A great class for gaining tools to help deal with stressful situations and everyday life.




Only have a short time for a workout? This high intensity interval training class combines elements of velocity training with cardiovascular exercise to create power! Your muscles get a workout as well as your heart & lungs. Quick calorie expenditure using the body's natural range of motion makes this an efficient workout. Build towards continuous movement for 20 minutes straight without rest.




Using traditional and not so traditional kettle bell drills combined with high intensity interval training to build on your fitness foundation, this class is designed to introduce you to functional movement training and weight baring exercises!

Although the class is intense, it is considered an ALL LEVELS CLASS. You will spend the hour finding your 100% maximal effort, no matter where you start from!




Circuit Bootcamp is an all levels, total body, high intensity, fast paced workout that will test your limits and push you to the max! In this bootcamp, a combination of TRX, kettlebells, ropes, resistance bands and body weight exercises will be used to ensure a great calorie and fat burning workout.




TRX circuit bootcamp is an ALL levels, total body, high intensity fast paced workout that will test your limits and push you to the max! This bootcamp is mainly performed on the TRX and combined with other circuits (e.g. bodyweight movements, kettlebells, ropes, resistance bands, dumbells, sandballs, etc). This is an intense full body cardio and strength training workout that will leave you feeling energized!!!