Marni Rachimi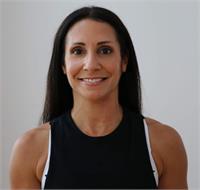 A lover of all things fitness, I made the decision to pursue my passion to become a fitness instructor and trainer and haven't looked back since!
I love working with children and have 2 of my own. I am a certified Kids Yoga Instructor who enjoys teaching children all the wonderful benefits that yoga and fitness have to offer.
While working at Evolution, I fell in love with TRX and have since become a TRX qualfied instructor.
I am so thrilled to be a part of the Evolution family!!!
Marni Rachimi instructs the following:
TRX Suspension Training utilizes gravity & your own body weight to challenge your muscles & test your endurance. This class uses functional movements & balance to challenge & strengthen the stabilizing muscles in the body, while remaining suitable & accessible for all levels. This unheated class may contain mobility, cardio, & strength drills to complement the TRX experience.




Turbo charge your workout! Love Spin Circuit training is a total body workout that involves performing both strength and cardio training exercises. We have combined TRX kettlebells, light weights, battle ropes, bands, slam balls and spin bikes for a fun, high intensity workout. Join in and challenge yourself!




Our kid's class is the perfect outlet for tuning in and unwinding after a busy day of school. Kids will learn challenging postures and a more flowing type of yoga that will help them calm their minds and strengthen their bodies. Partner poses and group games encourage kids to make new friends and sense a feeling of community. We work on building self-confidence and self-awareness. A great class for gaining tools to help deal with stressful situations and everyday life.