Kristen Brush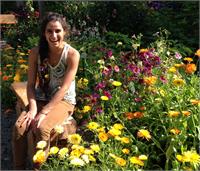 After completing her 200 hour training at Anchorage Yoga in Alaska, Kristen left her desk job as an engineer to pursue the spreading and teaching of yoga. Although Delray Beach, FL is her hometown, she has recently moved back after living on the island of St.Thomas, where she taught vinyasa and paddle board yoga. Her intention is to provide students a platform for creating a meaningful mind-body connection through physical movement. With over seven years of personal practice, Kristen shares from a heart of devotion with the hope of allowing others to experience the transformative nature of committing to the practice. While teaching class, her engineering background translates into a meticulous focus on anatomy and hands-on adjustments. She believes that it is most important for yogis to get on their mat when tired, weak, and anxious; these are the moments when vulnerability allows yoga to the mold the spirit.
Kristen Brush instructs the following:
Vinyasa or often referred to as flow yoga is unique in the smooth way that the poses run together and become like a dance. Each movement is linked to either an inhale or an exhale. This class is great for all levels.




In Yin Yoga, poses are held for several minutes at a time in order to the stretch the connective tissue around the joints. In the deep stretching class you can expect to lay back, relax, and de-stress.