Lauren Grygo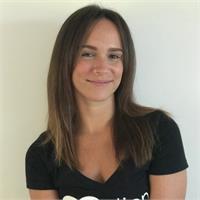 Lauren Ashley Grygo is originally from New Jersey and became certified in Yoga when she moved to sunny south Florida. She became interested in teaching yoga when she realized how the practice could quite literally transform a person.
Lauren lovingly believes in creating an atmosphere in which any level of practitioner can feel safe, have fun and feel connected spiritually to their practice. She also will honor the space of YOUR practice and encourages you to find confidence within your own unique yoga.
Lauren is a 300 hour RYT. She looks forward to many more hours of training and practicing; and is in gratitude for her teachers who have lead her here.
Lauren Grygo instructs the following:
Vinyasa or often referred to as flow yoga is unique in the smooth way that the poses run together and become like a dance. Each movement is linked to either an inhale or an exhale. This class is great for all levels.




In Yin Yoga, poses are held for several minutes at a time in order to the stretch the connective tissue around the joints. In the deep stretching class you can expect to lay back, relax, and de-stress.