April Pulli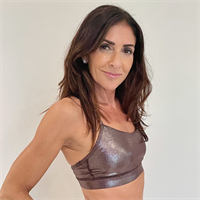 April is originally from Long Island, New York and has always had a passion for fitness and staying active. She started teaching group fitness classes as a part time job while in college. After graduating, April pursued a career in fashion in New York City but her love for fitness was always there. She continued to teach part time, it was her "fun job" her release from the daily grind of New York City. As an Instructor for over 30 years,April has obtained multiple certifications such as AFAA group fitness,Spinning,Booty Barre,P90X,Bootcamp,Mat Pilates and POUND. In 1997 April moved to South Florida,she lives in Parkland with her husband and daughter. April continues to stay active and loves teaching and sharing her knowledge of fitness with others.
April Pulli instructs the following:
Turbo charge your workout! Love Spin Circuit training is a total body workout that involves performing both strength and cardio training exercises. We have combined TRX kettlebells, light weights, battle ropes, bands, slam balls and spin bikes for a fun, high intensity workout. Join in and challenge yourself!




Balls, bands, and light weights and more are used in this high-intensity class to assist in creating proper form and to intensify certain exercises. This class uses the technique of traditional mat pilates and the intensity of cardio intervals to create a whole body workout. 95 degrees with 40% humidity.