Miron Leshem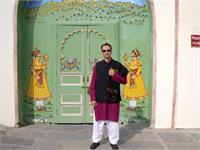 Miron came to yoga asana practice through his many year interest in spirituality, particularly the non-dual tradition originating in ancient India known as Advaita Vedanta. Miron began practicing Vinyasa yoga but was soon drawn to the depth, completeness and meditative nature of Ashtanga Vinyasa Krama. Although a strongly physical practice in many respects, Ashtanga carries with it the essence of Vedantic and tantric traditions, particularly with its emphasis on a steady pranayama as well as the application of the threefold aspect of prana (breath), drishti (eye gaze) and bandha ( internal energetic seals).
While conscious of the technical aspects of the practice, Miron ultimately views yoga as a moving meditation through which the yogi can come to experience the light of consciousness permeating the body.
Miron Leshem instructs the following:
This class follows the Ashtanga Primary Series. The Ashtanga discipline of breath linked with movement is preserved, and students are given options to modify or amplify the postures freely. The technique and theory will be explained and experienced.