Melanie Cordover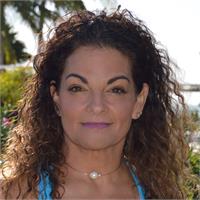 Melanie is a native Floridian who grew up dancing in Miami. Her love for dance created her passion her yoga. Melanie's yoga journey started later in life and has brought her to a beautiful chapter filled with wonderful and inspiring people. Her practice is one of energy, enthusiasm and enjoyment. Yogic themes, fun sequences and mindful gratitude add to the spiritual experience. She embraces the artistry of yoga and enjoys teaching non-heated vinyasa, heated power flows and yin classes. In addition, Melanie is certified in Hot Pilates and Pilates Fusion, so join her for some great body conditioning! She is a 200 hour Registered Yoga Teacher (RYT) with American Yoga, and certified in both advanced yin and HOT 26. Melanie is married to Alan, and they have three young adult children, Jared, Julia and Joey, her pride and joy.
Melanie Cordover instructs the following:
HOT POWER FLOW IS A POWERFUL, ENERGETIC FORM OF YOGA WHERE STUDENTS FLUIDLY MOVE FROM ONE POSE TO THE NEXT WHILE CONNECTING THEIR BREATHING TO THEIR MOVEMENTS. THIS TYPE OF YOGA IS TAUGHT IN A HEATED STUDIO WHICH MAKES IT A VIGOROUS AND REVITALIZING FORM OF PHYSICAL FITNESS. IT INCORPORATES STRENGTH, FLEXIBILITY, BALANCE, CARDIO AS WELL AS PHYSICAL AND MENTAL STAMINA IN ONE SESSION. THIS PRACTICE IS A PERFECT BLEND OF SWEAT AND SERENITY.




Vinyasa or often referred to as flow yoga is unique in the smooth way that the poses run together and become like a dance. Each movement is linked to either an inhale or an exhale. This class is great for all levels.




EVOLUTION PILATES FUSION (NON-HEATED) COMBINES MAT PILATES EXERCISES WITH HIGH-INTENSITY INTERVAL TRAINING, CARDIO AND YOGA. THIS HIGH-ENERGY CLASS BUILDS STRENGTH AND ENDURANCE, WHILE TONING AND TIGHTENING.




Balls, bands, light weights and more are used in this high-intensity class to assist in creating proper form and to intensify certain exercises. This class uses the technique of traditional mat pilates and the intensity of cardio intervals to create a whole body workout. 95 degrees with 40% humidity.