Martine Rosenstein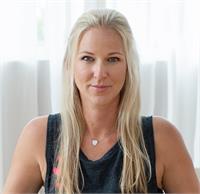 Martine Rosenstein received her 200 hour RYT at Evolution Yoga in Coconut Creek,FL under the direct guidance of Vikky Santana, in July 2018. Martine "tried" yoga the first time in 2013 after the birth of her 2nd child and quickly began practicing regularly. She loves all different types of fitness from weightlifting to running, but has always turned to yoga to integrate a level of balance into her life. Since beginning, she has been influenced by many local teachers, including Maxine Schwartz and Amy Frank. Her classes focus on Hot Power Flow and Love Set and are high energy with a natural flow. Martine lives in Parkland, FL with her family and dogs.
Martine Rosenstein instructs the following:
This intelligently sequenced class is set to 105 degrees with 40% humidity and inspired by the original 84 postures of the Ghosh Yoga method. Students can expect consistency in class structure as well as instruction for both deepening and modifying, as well as clear precise instruction for entering and exiting poses. Benefits include:
stronger, toned muscles, general sense of well-being (physical and psychological), improved flexibility, increased mental clarity, detoxification (through sweat), alleviating many ailments including stress, arthritis, muscular pain, insomnia, and asthma, potential for weight loss. This class is accessible to all levels and body types.




HOT POWER FLOW IS A POWERFUL, ENERGETIC FORM OF YOGA WHERE STUDENTS FLUIDLY MOVE FROM ONE POSE TO THE NEXT WHILE CONNECTING THEIR BREATHING TO THEIR MOVEMENTS. THIS TYPE OF YOGA IS TAUGHT IN A HEATED STUDIO WHICH MAKES IT A VIGOROUS AND REVITALIZING FORM OF PHYSICAL FITNESS. IT INCORPORATES STRENGTH, FLEXIBILITY, BALANCE, CARDIO AS WELL AS PHYSICAL AND MENTAL STAMINA IN ONE SESSION. THIS PRACTICE IS A PERFECT BLEND OF SWEAT AND SERENITY.