Alli Robles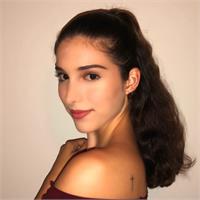 At a very young age Alli always knew what she wanted to do which was to be able to inspire people. Her greatest passions are what led her to become the instructor she is today. Before she decided to become a fitness and dance instructor, she trained intensely for many years in a pre-professional ballet program. She achieved many of her goals in the dance world such as dancing with American Ballet Theater in New York and competing in Prix de Lausanne in Switzerland. She is currently pursing a Bachelors in Exercise Science and Health Promotion at FAU. Soon she will have her 500-hour comprehensive Pilates certification, which she has always dreamed of having. Alli's love for wanting a healthy and fit lifestyle motivates her to inspire others to want the same. Teaching dance and fitness is something she looks forward to everyday.
Alli Robles instructs the following:
Our own style of Floor Barre that incorporates Ballet and stretching techniques to build long and lean muscles. This class will consist of 45 minutes of mat work followed by 15 minutes of core work. Walk out of class feeling taller, longer, and stronger having done a full body workout.




Our own style of Barre class, incorporating the barre, ball hand weights, and more. This is a fitness class NOT a ballet class. However, ballet principles are utilized throughout class along with Pilates principles. Come ready to feel the burn. Please bring a mat.




All Levels Contemporary is a class for teens and adults who want a form of expression through dance. This class incorporates the use of improv dancing and learning a new contemporary piece each week. It's the perfect class to let your hair down, dance freely, and wear whatever you feel comfortable in.




All Levels Ballet class is for teens and adults that have a passion to learn Ballet or have Ballet experience. The class will consist of barre and center work. Tights and a leotard are not required as long as the clothing is not baggy. This class is a great way to get the cardio we all need.