Lisa Kehoe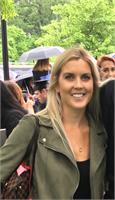 Originally from Key West Florida, Lisa has now settled into the South Florida area as a practicing attorney. Lisa found herself gravitating towards fitness in her years as a law student. She found that Pilates and Barre classes were not only a great way to get in shape but also a way to escape the daily stresses and hit that mental refresh button to find the perfect work-home life balance.
In her classes, you can expect to be challenged both physically and mentally, with the ultimate goal of providing a creative outlet for you to destress and rejuvenate your mind.
Lisa Kehoe instructs the following:
Balls, bands, light weights and more are used in this high-intensity class to assist in creating proper form and to intensify certain exercises. This class uses the technique of traditional mat pilates and the intensity of cardio intervals to create a whole body workout. 95 degrees with 40% humidity.