Maxine Schwartz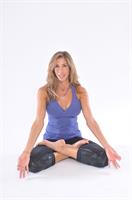 Maxine Schwartz, manager and co-owner, is thrilled to bring the Evolution Yoga brand to her hometown of Parkland/Coconut Creek. Maxine, a 19-year practitioner, is certified by the renowned Jimmy Barkan in hot yoga and Vinyasa levels I, II, III.
Always active and on the go, Maxine discovered yoga while training for her first NYC Marathon. While training, she incorporated hot yoga and found that it perfectly complemented her training. Yoga assisted in the avoidance of injury and calmed her during challenging moments in her training. She was determined to share the benefits of yoga and became a certified teacher in 2003.
Passionate about all aspects of yoga, Maxine has developed a large student base in South Florida. Her creative yoga classes continue to help students to create physical, mental and spiritual harmony in their lives.
Maxine Schwartz instructs the following:
HOT POWER FLOW IS A POWERFUL, ENERGETIC FORM OF YOGA WHERE STUDENTS FLUIDLY MOVE FROM ONE POSE TO THE NEXT WHILE CONNECTING THEIR BREATHING TO THEIR MOVEMENTS. THIS TYPE OF YOGA IS TAUGHT IN A HEATED STUDIO WHICH MAKES IT A VIGOROUS AND REVITALIZING FORM OF PHYSICAL FITNESS. IT INCORPORATES STRENGTH, FLEXIBILITY, BALANCE, CARDIO AS WELL AS PHYSICAL AND MENTAL STAMINA IN ONE SESSION. THIS PRACTICE IS A PERFECT BLEND OF SWEAT AND SERENITY.




Vinyasa or often referred to as flow yoga is unique in the smooth way that the poses run together and become like a dance. Each movement is linked to either an inhale or an exhale. This class is great for all levels.